Todays blog is is about using our LED Light Panels.
info@cpdlighting.com
How to install our LED Light Panels (CPD Lite Tiles) onto a BACKSPLASH, WALL, or ISLAND WATERFALL
This blog is about how to install our CPD Lite Tiles onto a backsplash, wall, or waterfall. Below are some commonly asked questions and answers regarding this topic. Whether you are installing CRISTALLO QUARTZITE, ONYX, or CORIAN; this Q and A is our most popular!
Q: What are your CPD Lite Tiles?
A: For that answer, we suggest you visit this page to learn about our CPD Lite Tiles:
https://cpdlighting.com/what-is-an-edge-lit-or-custom-led-panel/
Q: What size CPD Lite Tiles (LED panels) do I need to buy for my project?
A: CPD lighting does not stock ANY specific sizes. We manufacturer everything 100% to your size requirements. CPD suggests measuring all areas and putting it in a simple drawing. Can even be a hand drawing, then email it to us for a quick and easy quote. We can fine tune the sizes later.
Q: Should I make the CPD Lite Tiles the same size as the stone?
A: NO. Typically our clients take our CPD Lite Tiles (LED panels) in about 1/8" to ¼" on all sides. You don't want to see our light panels from the side view, so the stone should cover these areas going around the perimeter. We call this an APRON or OVERHANG on the stone. Typically, this apron is about 1" thick and the stone fabricator will understand and can offer more details about this.
Q: How do I install your CPD Lite Tiles against a wall?
A: The easiest way to install our LED panels (CPD Lite Tiles) against a wall is for us to pre-drill screw holes in the LED panels. You can choose exactly where you want the screw holes, and the diameter of each hole (or) we can chose these screw holes for you.
Q: So, I simply drill the CPD Lite Tiles to the wall? Can I drill my own screw holes in your LED panel?
A: YES, you drill them to the wall. It is recommended to hit a few studs, this way the panels are 100% secure. You can also drill your own screw holes into our CPD Lite Tiles. To do this, please contact your CPD Lighting sales rep. It's very easy, but there is a method to ensure no LED panels get damaged during this process.
See below pictures of our panels dilled to the wall, and the cristallo quartzite installed after. NOTE: there is protective film on the panels which make them look dull. Once this film is peeled off the panels GLOW full illumination. This project was done with (4) CPD Lite Tiles, and all have screws in them.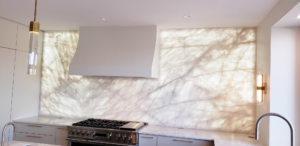 Q: How many CPD Lite Tiles will I get?
A: It depends on your application and area. As long as you give CPD Lighting your over area in drawing form, we can advise how many CPD Lite Tiles and the orientation of each CPD Lite Tile. See below diagram. This is a 60" x 118" area. We used (4) 29.5" x 60" CPD Lite Tiles and (8) screw holes per CPD Lite Tile. All panels are powered by (1) driver and controlled together by (1) LED wall dimmer switch.
NOTE: once your order is firm, we will complete custom shop drawings showing all relevant information. You will need to sign our drawing prior to production.

Q: How do I hang the stone after your panels are drilled the wall?
A: For liability, CPD Lighting does not offer a firm solution for this process, as we are not stone fabricators. In some cases, you can simply use some silicone and silicone the stone to the CPD Lite Tiles. It is VERY important to know that the silicone may show through and will be a bit brighter where you apply it. For this reason, we suggest only dabbing the silicone in certain areas around the panel. Do NOT glob it, or make lines with the silicone, as this will show through when the silicone dries.
If stone is extremely heavy and/or free floating, you can also put a L bracket at the bottom for the stone to sit on. The L bracket should be secured into the studs, so the stone can sit on it securely. Then you can silicone the stone to the CPD Lite Tiles for added security.
Q: How long do your panels last? Here are some quick facts about our panels:
-They last a VERY long time. Approximately 50-75,000 hours. This can relate to 100's of years.
-Our panels come in pure white, any kelvin you wish, color changing, AND even tunable.
-Our panels are VERY robust and strong. They can handle the weight of any stone, easily.
-Our lead times are roughly 2-3 weeks from time of order (must be verified as these leads change!)
-We offer 9" x 9" sample panels for a small cost
-We ship ALL over the USA and abroad
-CPD offers an extended 3-year manufacturer's warranty for replacement of the LEDs!
If you have any questions please contact us, we are here to help!
Thank You!
info@cpdlighting.com