Todays blog is regarding using custom LED Panels for Elevators.
info@cpdlighting.com
How do I use and install custom LED Light Panels in an elevator?
Today's blog is about custom LED Light Panels being used in elevators. Our CPD Lite Tile (custom LED Light Panels) are being used inside elevators globally. If your elevator application is for ceiling lighting, wall lighting, or flooring lighting, we have you covered.
Let's start with elevator wall lighting. Most often, our clients want to light stone, glass, acrylic, or other types of resin panels. Once you have decided what you want to illuminate, you must determine the sizes you need for your specific elevators. This is typically done in drawing form, (either CAD drawings, PDF drawings, or even hand sketches are acceptable). You can show any cuts outs needed, for railings, screws, buttons, fire levers, etc.. CPD Lighting can make our custom LED panels (CPD Lite Tiles) to your exact spec. Our custom LED panels are laser cut, and we can even do cut outs, as needed.
How do I install the custom LED panels on the wall?
The best way to install our CPD Lite Tiles (custom light panels) on the wall is to drill them to a wood or metal substrate. We can put screw holes in our custom light panels to make the install simplistic.
What if I don't want to see the screw holes?
If you don't want to see the screw holes, you can either make a custom frame to house the custom Light Panels (or) use mirror hangers around the perimeter of the light panels. See below: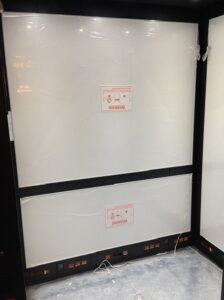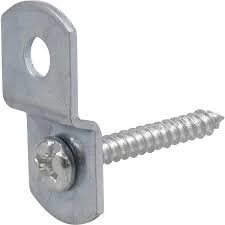 Below is a picture of a CPD Lite Tile in production. This Lite Tile will be used for on an elevator wall with a cut out for the railing.
NOTE: the CPD Lite Tile is 2700 Kelvin, which is why it has a warm yellow tin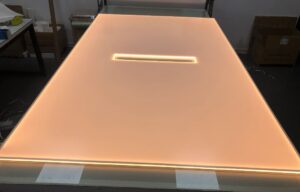 How to I install LED Light Panels on the ceiling of an elevator?
Installing our CPD Lite Tiles on the ceiling of an elevator is similar to installing them on the wall. They must either be drilled to the ceiling (or) mounted in a frame or mirror hangers. Please see below. Our light panels were simply dropped into a frame that was already existing in the elevator, which made this install quote simplistic.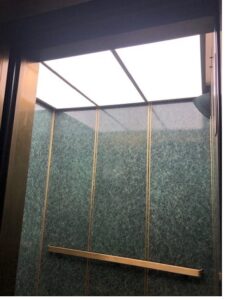 How do I install your custom LED panels on the floor of the elevator?
Illuminating the floor of an elevator is quite unique, and a jaw dropping application. To install our CPD Light Tiles (custom LED panels) on the floor of an elevator is quite easy. The good thing, you have gravity on your side. CPD Lite Tiles can tale the weight of any human being (and) material (glass, stone, etc…)
First, you need a protective top layer as scuffing can be a real issue. CPD Lighting offers a couple options for this. We offer a glass solution (or) another custom floor grade material. The ladder is much less in cost, but glass is higher end.
Again, we would need the exact size of the elevator floor that you want illuminated. CPD would need this in drawing form (either CAD, PDF, or hand drawing). Install can vary pending material choice, but at this point you simply put some silicone under our panels to hold them in place, and put the other material in top. Its that easy. Of course, you will have to wire the panels for power, but CPD can walk you through that at time of order.
If you have any questions please contact us, we are here to help!
Thank You!
info@cpdlighting.com