Todays blog is regarding CPD Lighting's outdoor rated LED light panels, what are they, and how to install them.
Q: What are custom LED light panels and what are they used for?
A: CPD Lighting calls these our 'outdoor' IP65 rated CPD Lite Tiles. Our outdoor CPD Lite Tiles come in any shape or size up to 4' x 8'. They are used to backlight endless materials: signage, stone, corian, glass, acrylics, stained glass, perforated metals, and more. If your material is water resistant and translucent, our CPD Lite Tiles can light it up.
Q: What is the thickness of your outdoor light panels?
A: Less then ½" (12mm to be exact)
Q: Is there a frame that goes around your panels?
A: NO. Our outdoor panels are frameless.
Q: How long do they last?
A: CPD Lighting's outdoor Lite Tiles last around 75,000 hours.
Q: What is the lead time for my order?
A: It depends on the size of the order. For small to medium projects (1 to 100 panels), around 2-3 weeks. For larger projects (100+ panels) could be around 4-8 weeks. It all depends on the project scale.
Q: Can you make my panels ANY size I want?
A: YES. Our panels are laser cut to the exact size you want. Everything is 100% custom to your needs.
Q: Do the light panels light evenly?
A: YES. Our panels are made to light uniformly, which is why our panels are so popular. Please ask your CPD Lighting REP to explain more about this process, and they can explain how to tailor our panels to your needs.
Q: Are your light panels durable?
A: YES. They are extremely strong and robust. They are also used for flooring and can take the weight of any car, SUV, and even some helicopters!
Q: What does IP65 mean?
A: Our outdoor IP65 rated CPD Lite Tiles are IP65 rated. This means they are weather resistant against rains and the elements. They can be directly outdoors and will not be damaged by rains or water from any other source. NOTE: for testing purposes we submerged out panels in water for 3 days. After this amount of time our panels still lit perfectly.
Q: How do I install your outdoor CPD Lite Tiles?
A: There are many ways to install our panels. The most common way is for us (CPD Lighting) to put custom screw holes in our light panels for easy drilling into the wall/ceiling/floor/etc. We can put the screw holes anywhere the client prefers, or we can pick them as we see fit. The client can also pick the diameter of the screw holes as well.
Another way to install out panels is to make a frame. CPD Lighting does not get involved with this aspect, and the client would need to design a frame to house our panels.
Please note that there are many ways to install our panels, but CPD Lighting does not get involved with this aspect, as all installs are different.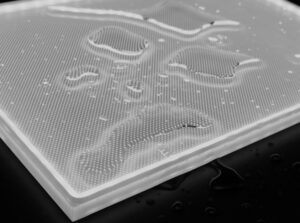 If you have any questions please contact us, we are here to help!
Thank You!
info@cpdlighting.com